Oak Furnitureland Willow Grey Washed Solid Oak Large Sideboard RRP £444.99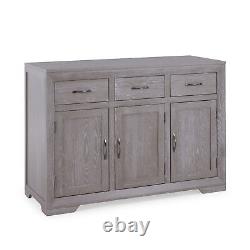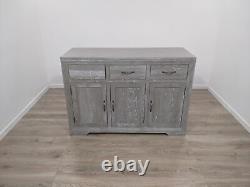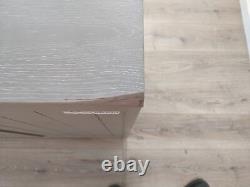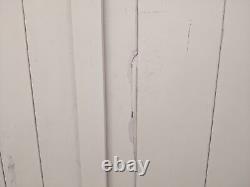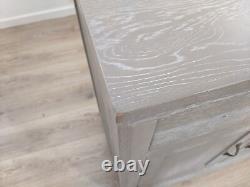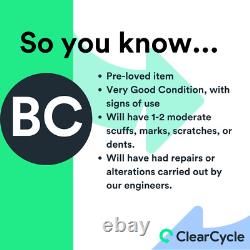 New & Professionally Refurbished Stock. Very Good Condition, with signs of use. Will have 1-2 moderate scuffs, marks, scratches, or dents. Will have had repairs or alterations carried out by our engineers. Covered by ClearCycle's 30-day Total Satisfaction Guarantee. Technicians' comments: Large chip to the back right corner been painted, small crack to the back of the sideboard. Please see Item Grading tab below for more information.
Our Willow large dresser will soon become the heart of the home. A solid oak dresser with grey washed finish and gunmetal handles, it offers lots of storage and display space. Simply designed with mitred corners, the modern look is made with classic carpentry to make sure it lasts. Grey washed oak, with the unique grain and knot patterns of this natural material. Specifications Width: 131cm Height: 196cm Depth: 50cm Product Title: Willow Light Grey Large Dresser - Solid Oak Material: 100% Solid Oak Finish: Solid Oak with Grey Wash Details: 100% oak Solid back and base Classic carpentry joints Unique grain patterns Designed as part of our Willow range Large dresser in oak with grey wash finish Made to last from solid oak Smooth to touch Gunmetal grey bar handles Three drawers Two shelved cupboards, one double, one single Two upper glazed cupboards and central shelf Solid oak all through, including back, base and drawer linings.
ClearCycle uses a generous grading system, put in place by our expert engineers, to ensure that when something reaches you, you are completely over the moon with it! We do not have the full history of where our items have been - but all items go through our thorough refurbishment and grading process and should reach you just as described. We reuse packaging, so bear in mind that the box may reach you with superficial damage or stickers on it, but this should not affect the product inside. For your peace of mind, all our items are fully covered by our 30-day Total Satisfaction Guarantee, and if something reaches you and doesn't knock your socks off, we will be happy to resolve for you. Box may have superficial damage. Item is as good as new. May have been previously assembled. Minimal signs of prior use. Box will have been opened. Excellent condition, with signs of use. Will have 1-2 light scuffs, marks, scratches, or dents. Couriers are chosen at the point of order and are guaranteed to be the best fit for your item to reach you. Our 1 Man deliveries - including small furniture and boxed Nectar mattresses - are usually delivered on one of our premium services. Please check all measurements for your item before ordering to ensure that it will fit in your home. If you think you might want to send your item back, please keep the packaging for collection. If your item reaches you and it's not as expected, send our Customer Experience team a message, and they will be happy to help.
We believe in Clear Deals and Saving the Planet - luckily for us the two go hand in hand, and you can fill your home with your New Favourite Things for a fraction of the price. We deal with some of the UK's leading brands to breathe new life into pre-loved items and help them live forever. The ClearCycle 30 Day Total Satisfaction Guarantee.
We take pride in the quality of every product we sell and offer a 5 point 30-Day Total Satisfaction Guarantee. Professionally Refurbished by our expert engineers.

---