Brand New Modern Large Sideboard Cabinet RENE in Andersen Pine 200cm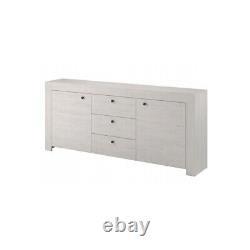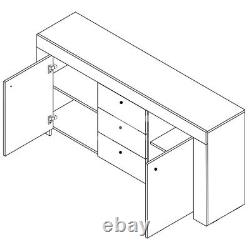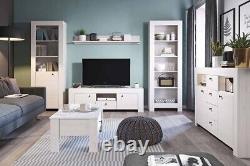 A sophisticated and beautiful cabinet that features three medium-sized drawers and two large compartments with hinged doors. An artistic contrast has been produced by the usage of Andersen pine for the entire structure, giving an impressive silvery yet woody appearance, whilst the handles are all vividly black. Dimensions: W200cm x H86cm x D40cm. Made from 16mm high-quality laminated board.
Due to the technology limitations colours on the screen may vary from real colours of furniture. Thank you for purchasing from us. Please read the following information carefully. Delivering our products is just as important to us, if not more important, than sourcing the products themselves.
Delivering a damaged item doesn't make us look good! This is the reason why we deliver goods by our own vans and employ own drivers who are very friendly and helpful. The furniture is brand new and packed in its original packaging. It is delivered flat packed for self-assembly. We start very early in the morning.
Goods are delivered 7 days per week between 6.00am and 8.00pm. We are unable to give a specific time slot during the day but we will notify you if you are one of the first points of drop. Leave appropriate instructions if the property is gated and has concierge. You can book additional service if you wish to have it delivered to your property in case you live on 1st floor and above (multi-storey building). We are unable to deliver to a specific room within a house. On wet rainy days, it is advisable to have an old bath towel/mat made available for our staff to wipe their shoes upon before entering your premises.
The driver will also call on the number you provided minimum half an hour prior to arrival as a reminder to ensure that somebody is available in the property. This right is not extinguished, if you have erected the furniture.
In the unlikely event of damaged, faulty or incorrect goods we will rectify the error by sending replacement goods or parts. We do not take responsibility for incorrectly assembled items or any damages occurred during the assembly process.
Furniture is the vital ingredient that will make your house a home. This is why, at Arthauss, we strive to provide a truly excellent choice of furniture for every budget and every taste.
We're here to offer you an inspiring and imaginative range of high quality furniture. We want you to show a real expression of your style and individuality throughout the way you decorate your home. Should you wish to return the goods it is your responsibility to take good care of the furniture.
You are the owner of the furniture once it has been delivered to you and you are liable for any loss or damage. We are unable to offer collection service. Failure to take reasonable care may result in a claim against you. To minimise the risk of any such claim we ask that you return the goods in appropriate packaging such as to prevent damage in transit.

---